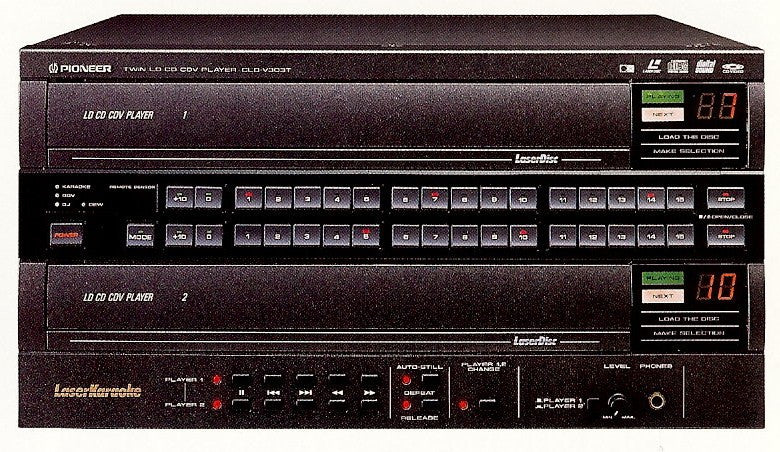 CLD-V303T Pioneer Twin Tray Heavy Duty Laser Disc Player (Made for Commercial Use Designed with DJ-Friendly)
---
Note: 

Mixing Amplifier or Mixer and Amplifier Required. 

CD+ Graphic discs cannot be played with this player.
And also  PAL and SECAM system discs cannot be used with this player.  

Please use NTSC Laser Disc or NTSC Compact Disc.
TYPES OF DISCS THAT CAN BE PLAYED WITH THIS PLAYER:
CD (Compact Disc)   Single                   3-inch   One side
CD (Compact Disc)   Single                   5-inch   One side
LD (Laser Disc/Laser Vision Disc)        12-inch   Two sides, one side
LD (Laser Disc/Laser Vision disc)          8-inch   One side

Limited Manufacture Warranty by Pioneer:  No longer available
We will test before ship out. 
Any damages:  Buyer must contact carrier such as UPS or USPS immediately upon acceptance of delivery. 
There is no free trial, no return available. 
Exceptional Returns must have Return Authorization by us, Any unauthorized returns not acceptable and to be shipped back to the shipper/buyer at his/her expense. 
Shipping charges & Insurance:  Responsible by Buyer on each shipment includes in case of any returns with insurance must be paid by Buyer.
*** For any questions or concerns, please contact us before purchase.
 
.
.