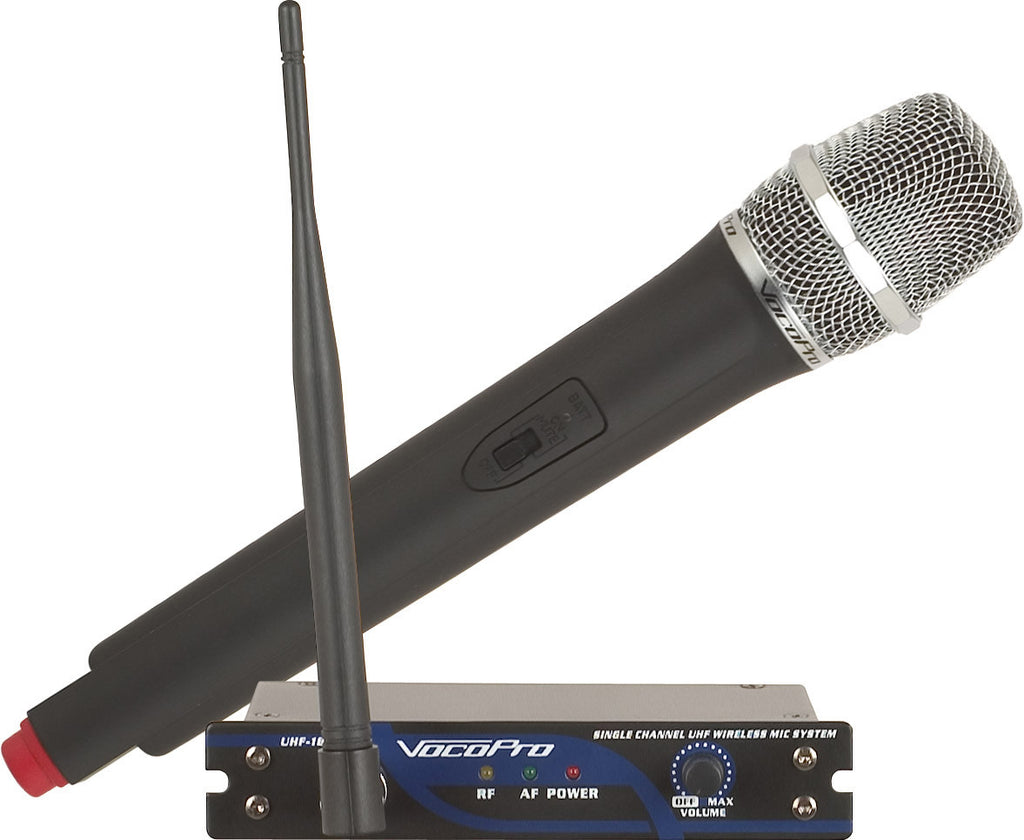 Rental: UHF Wireless Microphone - Single
---
Includes:
UHF Wireless Microphone
Receiver Unit w/ Power Adapter
1ft long 1/4" to 1/4" cable
AA batteries for Microphone

(Please e-mail us to check for availability before reserving. Security Deposit will be required on the day of pick-up.)


See Pickup & Return Schedule, Requirements and Rental Agreement
RENTAL AGREEMENT
Terms & Conditions:

The Customer, the Applicant and/or Credit Cardholder, is financially responsible for the rental system including all software, hardware, cables and song books as the attached "List for the Items Rented".
If the unit or any part is lost, damaged, destroyed or any reason for not to be able to return on time, the customer will be responsible for the cost of replacement of the rented items. The replacement cost may be included reasonable loss of our future rental businesses and preparation time etc.

The customer authorizes Seattle Karaoke Enterprises, Inc. (SKE/us), to charge such costs to the credit card given to us as a security deposit but not limited to the amount of the authorized security deposit.
Also the customer agrees that we may pursue all avenues of collection, including use of collection agencies, and/or wage garnishment with reasonable all legal fees.

Since there is no refund and no-reschedule for another day use, the customer is responsible to inform us for any problems or troubles at the time, not when returning system to us.

We strongly recommend the customer to set up the rental equipment as early as possible before our store business closing time. (We close at 7 pm on Monday-Saturday, and 5 pm on Sunday.)
However, the customer can reach us anytime for help.
We forward our business main line, (206) 574-3020, after hours.

When the customer calls us for help, we ask him/her to describe the exact problem and how the customer set it up in order for us to troubleshoot over the phone.
At the worst case if we cannot solve the problem over the phone, we will come to the premise to replace our rental equipment at no charge to the customer.

However, if we find that the problem is not because of our equipment, we will charge a service fee of at least $75 plus travel time and actual cost such as parking, toll fee & etc. plus applicable sales tax.

If the customer makes any changes, rewire and/or disassemble our equipment and/or rearrange the pages of song book(s), we will charge to the customer minimum of $50 and up to the replacement of the cost that may include reasonable loss of our future rental businesses and preparation time etc.

We do not take any responsibility of any economic loss or injury to person and/or property that may result from the misuse, improper setup and/or exposure to moisture.

We do not produce any of the karaoke songs in our system, therefore, we do not take any responsibility for errors in lyrics and/or explicit content in the audio or in the on-screen lyrics.
If the customer needs to verify the content for specific songs they are welcome to make an appointment with us to test the specific songs.
About the Security Deposit for Rentals:

All of the rentals will require a security deposit upon pick up.
Security deposit for this package is $200.

Visa, M/C, Discover or American Express will be accepted for a security deposit.

The credit card holder has to be present with a proper ID, may require more than one.

Regarding IDs.
Please allow us to make a copy of them.
We accept: State Driver License, State ID, Military ID, Passport or other credit cards with picture.

We will charge the security deposit amount on the day of pick-up.
If all items are returned on time, in original condition, we will refund security deposit upon return.
Late return, missing items, damaged items or items that require cleaning may incur deductions from the security deposit.